About the Plant Anatomy Digital Archive
The enormity of the Swingle Collection poses a challenge to any attempt of a comprehensive digitization project. We estimate that the collection includes over 26,000 slides. Each slide in turn contains 2-70 sections per slide, with each section subtly differing from its neighbors. In addition, each section may yield novel observations when viewed at different magnifications. All together, this opens up the possibility of millions of unique, potentially informative, digital micrographs of tropical plant anatomy.
Because of the limited time frame of the Digital Library Fellowship, tough decisions had to be made on how to prioritize slides for digitization. Our priority was to convey the extraordinary taxonomic diversity represented in the collection. With few exceptions, we captured at least one digital image from all of the species studied by Swingle and his assistants. Because the slide collection represents a culmination of Swingle's comprehensive comparative studies of members of the orange subfamily (Aurantioideae), the wild relatives of citrus are particularly well sampled. Most of the images were captured at 4X. Particularly small structures, such as stomata in leaf paradermal peels, were examined at 10X and 40X.
The hundreds of digitized slides represent a limited picture of the diversity of the collection. Anyone interested in exploring this collection further may download a digital version of the catalog to the collection ("Catalog of sectioned material filed in the reference collection of slides in the Swingle Plant Research Laboratory, University of Miami") compiled by Frank D. Venning. Please contact Barbara Whitlock with any questions.
Prepared by Barbara Whitlock 2009-09-18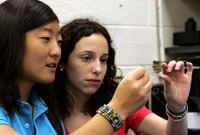 Jennifer Hwang and Rochelle Maris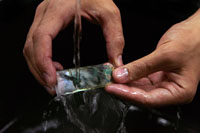 Cleaning the slide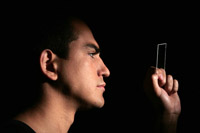 Juan Montoya checking the slide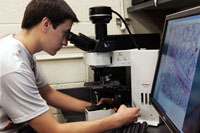 Ernesto Perez digitizing a slide section