Walter Tennyson Swingle, 1871 - 1952
Walter Tennyson Swingle was born in 1871 on a farm in Canaan Township, Pennsylvania. When he was two years old, his family moved to Kansas where he grew up on farms outside of Manhattan. He had little formal schooling but was taught at home by his mother, and spent much of his childhood helping with farm chores. One of his early journals from 1881 held in the University of Miami Libraries Special Collections shows that Swingle spent a lot of time watching cattle and we can only imagine he took advantage of the time to learn and observe the prairie plants around him.
Swingle began attending classes at the Kansas State Agricultural College (later Kansas State University) at an early age. David Fairchild, whose father was president of the college, first met him when Swingle read a paper on rusts in cereal crops at the age of 16. By 17, he was given the title of Assistant Botanist at the Experimental Station. He studied with Professor William Ashbrook Kellerman, a pioneer in plant pathology, whose influence led Swingle into the study of mycology and plant diseases that later served him well in his work with citrus. By the time he had finished his B.S. degree at age 20, Swingle had published 27 papers, including six as the sole author, in the then new and exciting fields of plant pathology, plant breeding and genetics.
In 1891, Swingle was offered a position with the newly formed United States Department of Agriculture (USDA), on the recommendation of David Fairchild. He was so young at this point that his parents had to give their permission for him to accept the job. This was an important time in the expansion of American agriculture. Swingle was immediately sent to Florida to develop strategies to fight several new diseases affecting orange groves. This began a lifelong passion with citrus. In those early days in Florida, Swingle made several new hybrids among different citrus lines, he described fungal and other citrus diseases, developed insect control measures, and even discovered a new species of palm. He began at once comprehensive and ambitious programs to breed and graft new disease- and frost-resistant citrus trees.
After the devastating freeze in the winter of 1894-1895, Swingle (as well as Fairchild) left for Europe for further scientific training. Swingle studied with Strassburger in Bonn and Pfeffer in Leipzig, both pioneers in plant physiology, followed by a year at the prestigious Naples Marine Laboratory. After his return to the USDA, he continued investigating agronomy, plant life history and plant pathology in many tropical and subtropical crops, including pineapple, dates, guava, coffee, figs, pistachio and cotton, as well as citrus. This work led to travels around the world. Apart from his work in citrus, Swingle is best remembered for identifying and then introducing the pollinator of Smyrna figs, insuring the success of fig culture in the United States, and for introducing dates to the Southwest.
Throughout his career, Swingle was ahead of his time in recognizing the need for genetic diversity in crops and the risks of growing them in monocultures. He was an early advocate for permanent, living collections of economically important plants and their close relatives – what we would call germplasm today. With his colleague H. J. Webber, Swingle developed plans to establish a subtropical laboratory, which eventually saw light as the Subtropical Agricultural Station at Chapman Field. Because of his background in genetics and plant pathology, Swingle was truly prescient in using wild relatives of citrus in breeding or as root stocks for grafts. He proposed testing all known wild relatives for disease-resistance and other advantageous traits that could be introduced to improve citrus. This led him into his comprehensive studies of the comparative anatomy and systematics of the orange subfamily during his extraordinarily productive "retirement" at the University of Miami.
Swingle first became interested in Chinese literature while reading about the history of citrus cultivation -- citrus was domesticated very early in Asia and many wild relatives of the cultivated species are native to that region. During his travels in East Asia with the USDA, Swingle began collecting old Chinese herbals, agricultural treatises, and encyclopedias of economic plants. He had great respect for the strong sense of history, attention to detail and literary tradition in Chinese writings. He was especially impressed with the early understanding of the potential use of different varieties of crops, diagnoses and treatments of plant diseases. Swingle oversaw the translation of many works of Chinese literature, and later extended this to literature from Japan, Korea, and Mongolia. Between 1915 and 1935, Swingle became close friends with the Librarian of Congress, Herbert Putnam. During this time, he donated many volumes to the Library of Congress, made recommendations as to what should be targeted for accession, and used his many professional contacts to help the Library of Congress obtain important works. Swingle emphasized collection of gazetteers or local histories and books from the Ming Dynasty that were still reasonably priced in the 1920s and 1930s. Overall, Swingle assisted the Library of Congress to obtain over 100,000 volumes, helping to transform it into the world class collection it is today.
After his retirement from the USDA, Swingle moved to Miami and in 1943 was given a position on the faculty of the University of Miami by President Bowman F. Ashe who was impressed with Swingle's vision of tropical botany. Swingle was given the title Consultant of Tropical Botany and set up the Plant Research Laboratory in the old Botany building in Coral Gables. At UM, Swingle completed his monograph "The Botany of Citrus and its Relatives of the Orange Subfamily" which remains the premier reference for the taxonomy, morphology, and anatomy of these plants. With his staff, he began the ambitious project that became the Swingle Plant Anatomy Reference Collection, carefully preparing several thousand microscope slides of plant structures from tropical crops and their wild relatives. Many of the slides were prepared from plants that Swingle and his colleagues cultivated in the Miami area or obtained in their travels. Swingle and his staff also developed and extensively used a method of rehydrating plant structures removed from dried herbarium specimens, which allowed them to include many rare and exotic species in their studies, including type specimens and other specimens collected more than one hundred years earlier.
Swingle continued to be highly productive at the University of Miami. By the end of his career, his students compiled a bibliography of over 250 scientific articles written by Swingle, although they could not claim it was complete. Even in his retirement, Swingle inspired a generation of students with his knowledge, curiosity of nature, and insights into plants. His simple advice to students was "Look and look, again and again," words still relevant today.
Prepared by Barbara Whitlock
2009-08-20

Inventory of articles, manuscripts, diaries, notebooks and correspondence held in the University of Miami Libraries Special Collections.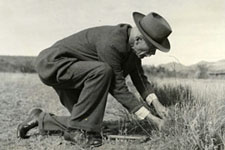 Photographs and the full-text of selected articles, diaries, and letters from the University of Miami Libraries Special Collections and the Fairchild Tropical Botanic Garden Archives.

Walter Tennyson Swingle: Botanist and Exponent of Chinese Civilization by Harley Harris Bartlett. Asa Gray Bulletin, Vol I, No. 2, April 1952, 107-132. [PDF format]
Walter T. Swingle: 1871--1952, by William Seifriz. Science, New Series, Vol. 118, No. 3063 (Sep. 11, 1953), pp. 288-289. [PDF format]
Walter Tennyson Swingle, 1871 -1952 by Frank Venning. The CARRELL: Journal of the Friends of the University of Miami Library, Vol 18, 1977, 1-32. [PDF format]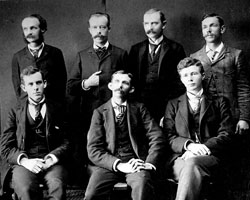 The "Old Guard" of the Section of Vegetable Pathology, National Agricultural Department in 1893. Erwin F. Smith, Effie Southward, and Newton B. Pierce were in the field. Back row, from left to right: Joseph James, Theo Holm, Merton B. Waite, P.H. Dorsett. Front row: David Fairchild, Beverly T. Galloway, Walter T. Swingle. The National Agricultural Library, Beverly Thomas Galloway Papers, Collection 66.